Warehousing & Logistics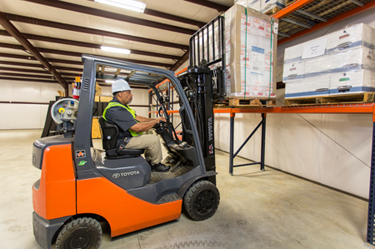 The newest addition to our range of services is our 10,000 square-foot warehouse, available for long and short-term storage. Our fully equipped and newly built warehouse is ready for use today!
Our gated and password-protected warehouse offers a full security system with video surveillance 24 hours a day to ensure the safety of your items. The Chaski warehouse is conveniently located on-site and is easily accessible during normal business hours, so access to your product is a breeze.
For loading and unloading purposes, we have two standard height loading docks, and a drive-in dock for your convenience. Additionally, we offer use of our pallet jacks and forklift onsite. Inside our warehouse we offer pallet racking for additional storage space, also on site we have an additional 1,000 square feet of climate controlled space available as well.
​Rates are based on a month-to-month commitment for storage.
​Pallet Dimensions: Maximum of 40x48x56 inches
Pallet weight: Maximum of 1200 lbs. per pallet
​Customer products will not be mixed on pallets
​Product received after the 15th of the month will be billed at 1/2 price for that month
​Orders will be picked and available for pick up within 2 1/2 hours during normal business hours
No Hazardous Materials can be stored so your products will always be safe